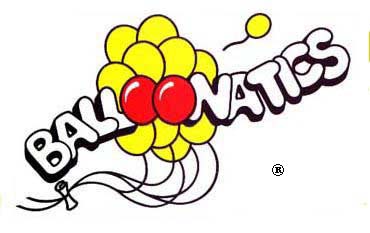 Valentine and Romance Bouquets
Capture their heart with a balloon bouquet from Balloonatics.
Whether it's Valentine's Day, a special anniversary, or just to say, "I love you", a beautiful balloon bouquet is a lasting way to show how much you care.
Hot Air Greeting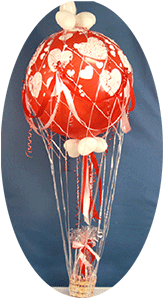 This classic hot air balloon design bouquet can be created in the color of your choice. It comes with either a bottle of Martinelli's™ sparkling cider or a bottle of Korbel Brut Champagne in its passenger basket for an additional $5.
$87.50

The L-O-V-E Decor Piece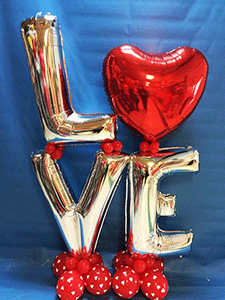 Giant mylar balloon letters spell "L," "V," and "E" with a giant red heart for the letter "O" accented with heart print balloons for your special someone..

$125.00

Floating In Love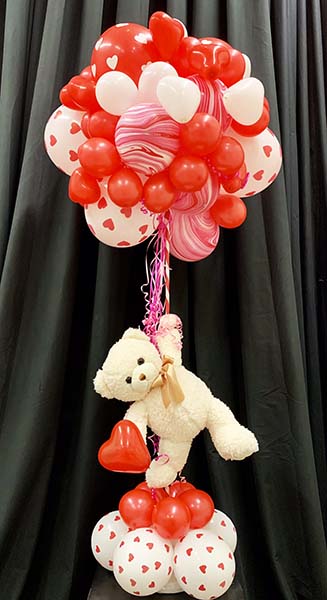 This cuddly stuffed teddy bear, holding large cloud-like bouquet made with latex assortments of heart shaped ,solid and heart printed balloons, is all you need to show the love to someone very special !

$137.50

Cupid's Kiss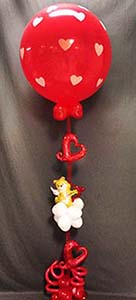 This 7ft arrangement is topped by a 30'' jumbo balloon covered by hearts and is complimented by clusters of smaller heart-shaped balloons, mylar hearts, and a cute cupid bear.

$75.00

The Crazy Hearts Bouquet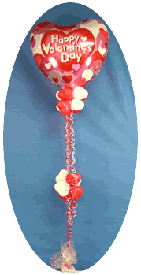 A giant heart-emblazoned Mylar balloon with red and white mini-heart collars floating 6 feet above the floor on a cascade of red and white ribbon.
$99.50

Personalized Valentine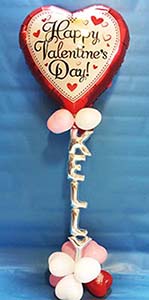 A giant heart mylar balloon tops this valentine bouquet. Your loved one's name is spelled in the letter chain that attaches the heart balloon to its hearts cluster base.
$67.33

Endless Love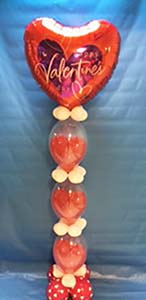 Our giant 36'' red mylar heart balloon with classic "Happy Valentine's Day" message tops a tower of double bubble hearts
$67.95