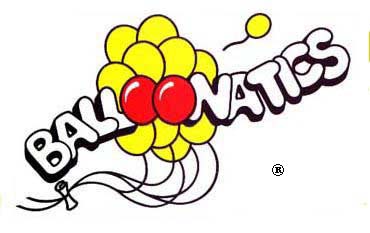 Gift Baskets
Show your appreciation and caring with a creative theme gift basket from Balloonatics.
The Treasure Chest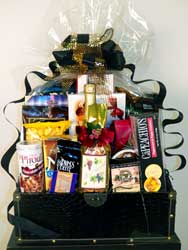 This basket will dazzle your lucky recipient with a hand-assembled wooden treasure chest filled with an assortment of gourmet treats including Pirouline™ wafers, gourmet ground coffee, Bon Appetit snack mix, chocolate parfait, coffee-flavored hard candies, Natural Pop chips, European truffles, Martinelli's™
sparkling cider and more.
$129.00

The Gourmet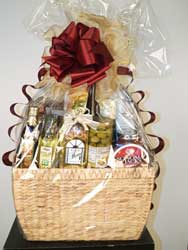 This delicious assortment of exotic foods is sure to make a lasting impression. A large wicker basket is filled with a bottle of olive oil, vinaigrette, snack mix, gourmet olives, Sonoma pepper jack cheese, Columbus™ dry salame, salsa, gourmet coffee, a bottle of white wine, Snyders™ pretzels, caramel-flavored hard candies, Italian gourmet pasta, pasta sauce, gourmet popcorn, cookies, and dipping chips.
$139.00

Welcome Home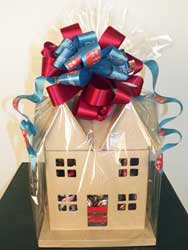 This house-shaped basket welcomes them home with an all-sweet assortment of crunchy snacks and treats. Not only is this gift tasty, it's affordable and the perfect gift for housewarmings, real estate closings, and mortgage closings. The delicious gifts inside include Nescafe™ coffee, chocolate truffles, mild salsa, pita chips, salsa chips, Pirouline wafers, and coffee-flavored hard candy.
$69.00

The Green Thumb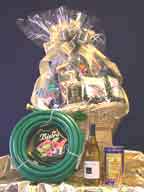 This gift basket is practical and sure to please any new homeowner or gardening aficionado. The garden hose container is filled with apple cider, Royal Food™ nuts, all natural jam, cheese straws, cookie mix, Welcome Home snack blend, Italian bread sticks, and a set of garden tools and gardening gloves.
$99.00

A World of Thanks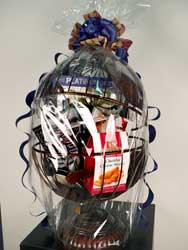 Show your gratitude by sending this delightful globe-shaped galvanized metal container filled with a worldly collection of appetizing gourmet treats. This basket includes smoked salmon, a bottle of red sauvignon wine with two wine glasses, brie cheese, cheddar cheese straws, European chocolates, smoked salmon pate, and a wine accessory set.
$199.00

Tool Time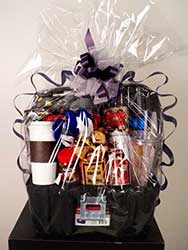 This gift basket is packed within a Husky™ brand tool box complete with all those necessary tools needed for a new home, from the essentials needed to start a project (coffee and snacks) to a set of tools, including work gloves, duct tape and nails.
$89.00

Fun Food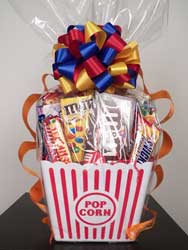 This popcorn box basket is filled with a wide variety of popular candies including chocolate M&Ms™, Starburst Chews™, Peanut Butter Snickers® candy bar, Kit Kat™ candy bar, Skittles™, Baby Ruth™ candy bar, Hershey's Cookies and Creeme™ chocolate bar, crunch bar candies, Butterfinger™ candy bar, cookies & cream snack bites, Twizzler™ straws, Pop Rocks™, Milk Duds™, plus bottles of diet & cherry-flavor Coca Cola®.
$49.00

Tee Time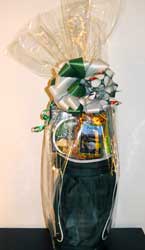 Fore! This gift basket is sure to sustain any golfer through 18 holes of enjoyment. The golf-themed cooler bag is filled with an assortment of delicious snacks. Your favorite duffer will find Sonoma garlic and herb cheese, water crackers, Nature Valley™ granola bars, Propel Zero water, and pita chips in this basket.
$55.00

The House Warming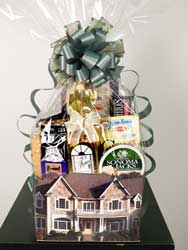 This gift basket is perfect for celebrating a new home, with its house box design and delicious contents. This basket includes chocolates, cookies, Martinelli's™ sparkling apple cider, and much more!

$89.00